Description
Make Iodine More Effective!
Iodine Co-Factors contains the necessary elements that are required to maximize iodine absorption and assimilation. This product was formulated to be used along with the Terry Naturally® Tri-Iodine® or Thyroid Care™ products.
You Need Iodine. Iodine Co-Factors Helps Make It Work.
Every cell in your body needs iodine, but some people need additional nutrients for it to work at its best. Iodine Co-Factors provides ingredients recognized as important partners to this crucial mineral:
Selenium acts synergistically with iodine and plays a role in iodine's availability to cells. Additionally, selenium protects the thyroid gland from oxidative stress, which may occur during the conversion of iodide to iodine.
Vitamin C supports healthy tyrosinase activity, a required enzyme for energy metabolism and thyroid hormone production.
Thiamin (B1) helps activate the thyroid hormone and thyroglobulin protein production.
Riboflavin assists iodine in the synthesis of the thyroid hormone, thyroxine (T4).
Magnesium improves the absorption and utilization of iodine.
Manganese is essential for the conversion of glucose to cellular energy and aids in iodine's support of balanced metabolism.
If you don't feel you are getting all the benefits from iodine that you desire, Iodine Co-Factorsmay be the missing link!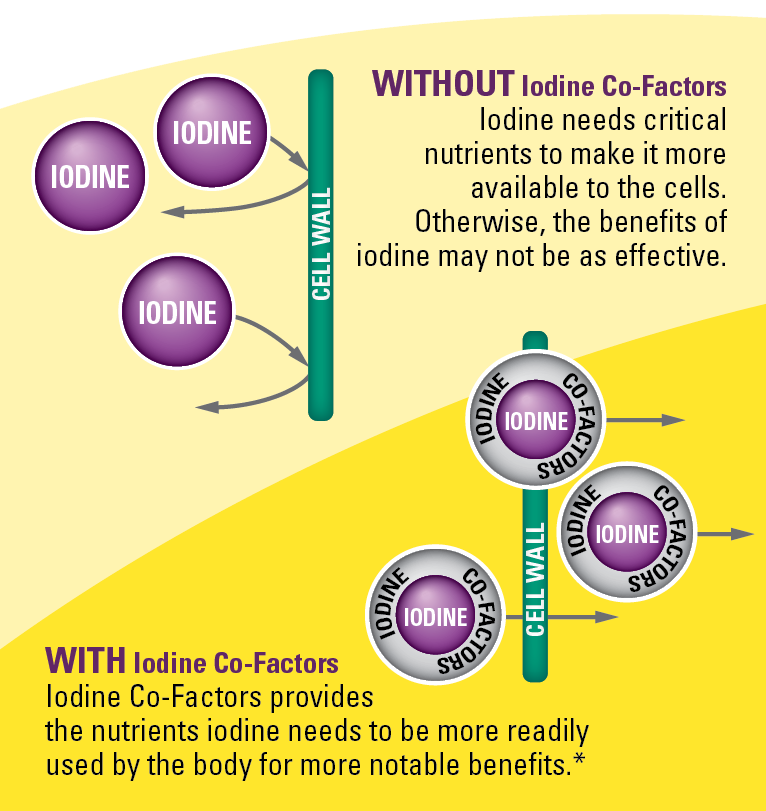 Supplement Facts
Serving Size:4 Capsules
Servings Per Container:30
Ingredient
Amount/Serving
Daily Value
Vitamin C (ascorbic acid)
1,200 mg
2,000%
Thiamin (B1) (from Thiamine HCl)
100 mg
6,667%
Riboflavin (Vitamin B2)
100 mg
5,882%
Magnesium (from TRAACS® Magnesium Bisglycinate Chelate, Magnesium Oxide)
200 mg
50%
Selenium (from Selenium Glycinate Complex)
200 mcg
286%
Manganese (from TRAACS® Manganese Bisglycinate Chelate)
10 mg
500%
Other Ingredients:hydroxypropyl methylcellulose (vegetable cellulose capsules), organic rice bran extract, maltodextrin, organic rice concentrate, silica.
No:sugar, salt, yeast, wheat, gluten, soy, dairy products, artificial coloring, artificial flavoring, or artificial preservatives
If pregnant or nursing, consult a healthcare practitioner before using.
VEGAN
NON-GMO